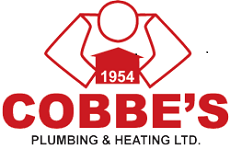 Monday - Friday 8:00 am - 5:00 pm Phone # 204-857-6833 Fax # 204-239-6090
24/7 Emergency service
24 HOUR EMERGENCY SERVICE #204-857-6833 Hours of operation Monday-Friday 8:00am- 5:00pm
FAX# 204-239-6090
COVID-19 PROCEDURE
PLEASE CALL 204-857-6833 FOR PARTS OR SERVICE. OUR DOORS ARE STILL LOCKED TO THE PUBLIC BUT WE ARE OPEN AND READY TO HELP.
IF YOU ARE NEEDING PARTS FOR YOUR REPAIRS OR PROJECT CALL OUR PARTS DEPARTMENT AND THEY WILL GATHER YOUR SUPPLIES AND BRING THEM OUTSIDE TO YOU.
OUR SERVICE DEPARTMENT IS READY TO HELP YOU WITH ALL YOUR PLUMBING, HEATING AND ELECTRICAL ISSUES,
BILL PAYMENT CAN BE MAILED, CALLED IN BY PHONE OR STOP BY, CALL 204-857-6833 AND SOMEONE WILL COME OUT TO HELP YOU.
Gerald Cobbe started Cobbe's Plumbing and Heating LTD in 1954 and the business has continued to grow and serve the  Portage la Prairie and the surrounding Central Plains area for  60 plus years.  We have 45 knowledgeable and skilled employees with a wide range of expertise and experience  ready to help you with your Residential and Commercial Plumbing, Heating and Electrical needs no matter if the project is big or small, a new build or a renovation/upgrade project.  We strive to provide quality workmanship from start to finish of each project.  We are a part of  Apprenticeship Manitoba  helping to promote growth in the industry and in our city.  We believe in living and supporting the community that supports our business through shopping local, volunteering and supporting many community projects and events.
COBBE'S PLUMBING & HEATING LTD 1800 Sask. Ave. E. Portage la Prairie, MB R1N 4A1 PHONE: 204-857-6833 FAX: 204-239-6090